Dad Goes Viral Photoshopping Daughter Into Dangerous Situations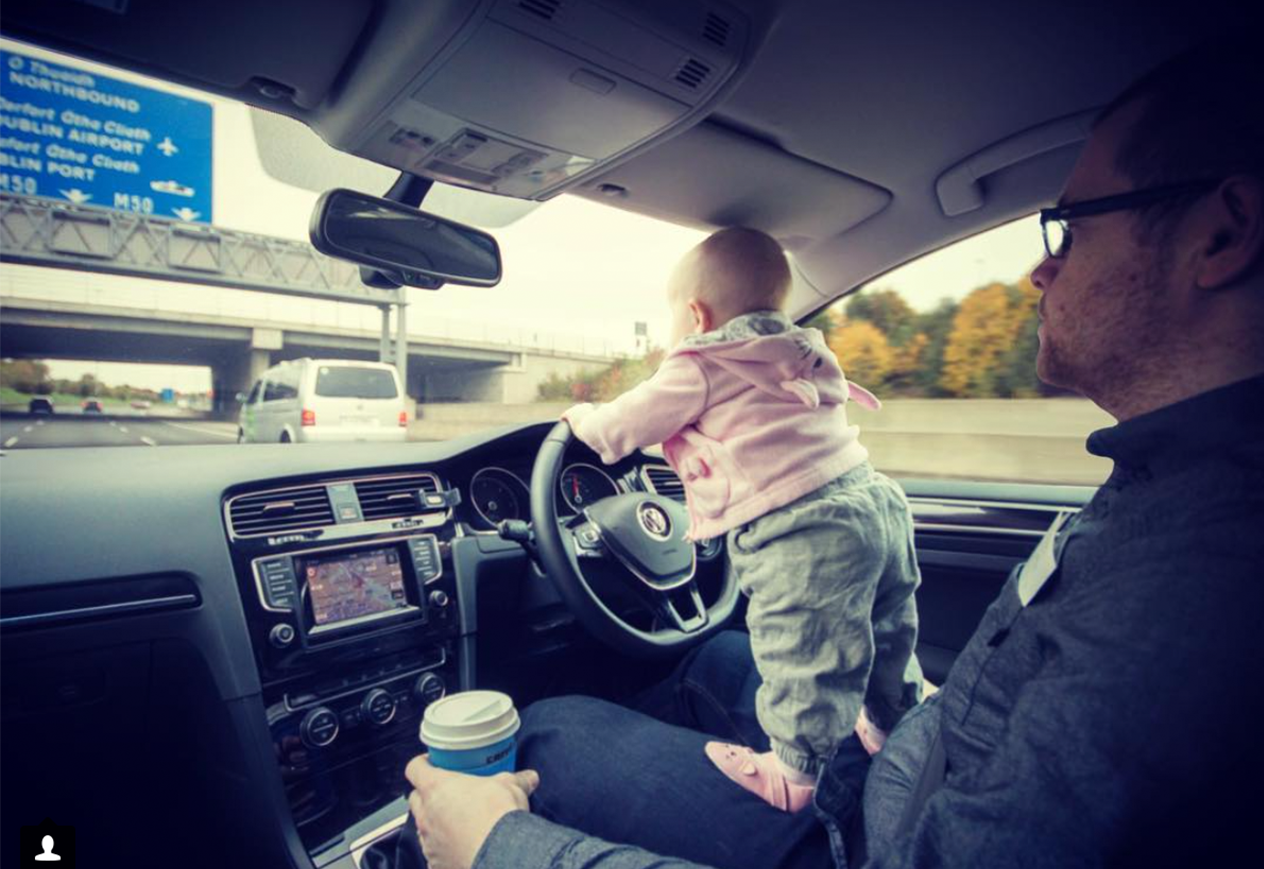 VOTE NOW! Is this Funny or Offensive?
Posted in:
Dad of the Year
November 26th, 2018 – Stephen Crowley is mobile designer, a cyclist, and a terrible dad. Those are all self-descriptions, of course, and judging by his social media accounts that last line is said in jest. The Dublin-based dad has become a popular Instagram fixture after he started photoshopping his baby girl, Hannah, into dangerous situations.
At first scroll, the photos may seem like any other post a parent with kids would share with their followers, but when you slow that scroll you start to think "wait, that baby looks way too young to be doing that!"
Over the past three years, Crowley has put his daughter into some pretty unsettling scenarios: sitting on the kitchen counter holding a kitchen, climbing the attic stairs, sitting on a railing over a pond, and feeling the breeze from a car window.
Each post includes a clever caption that leans further into the joke while hopefully assuring followers that the child is clearly not in any real danger.
"Cooking up a storm (before everyone goes crazy, don't worry, the oven clock is set wrong, she isn't actually still awake at 9.35pm)," Crowley captioned a photo showing his daughter holding a kitchen knife. 
"Note to self: check car seat straps before long motorway journeys," he wrote for a photo where Hannah does her best impression of a dog on a road trip.
"Someone is a little unhappy about the Christmas decorations going away," he shared as his little one appears to be climbing up the attic stairs. 
Crowley joined Instagram in the summer of 2016 and initially posted lots of travel photos and scenic shots. Once you have a child it's normal to see an increase in likes when you post a kid pic, but if you really want some bigger traction, try posting a photoshopped image of them driving in heavy traffic! Crowley went from 30-50 likes to thousands when he began his new venture.
View this post on Instagram
View this post on Instagram
The father/daughter duo has received some national attention since the photos went viral, and that spotlight has allowed Crowley to shed some light on what motivated him to fire up photoshop. In an interview with The New Yorker, he shared stories about the harder moments his family has faced.
When Hannah was four months old, she was diagnosed with a rare immune disorder called hemophagocytic lymphohistiocytosis.
"She spent the next six months in the hospital receiving chemotherapy and ultimately a bone marrow transplant, which saved her life," Crowley wrote. He had already shared photos of his daughter privately, but quickly realized that the family was "desperately seeking a little humour in our lives."
View this post on Instagram
View this post on Instagram
Crowley does throw in some traditional photos of his family but says he has no plans to stop sharing the less traditional shots.
"I'm really looking forward to showing her these when she is older."
How do you feel about this photoshop adventure? Funny or Offensive? Vote and comment now…