Grocery Store Censors "Summa Cum Laude" Graduation Cake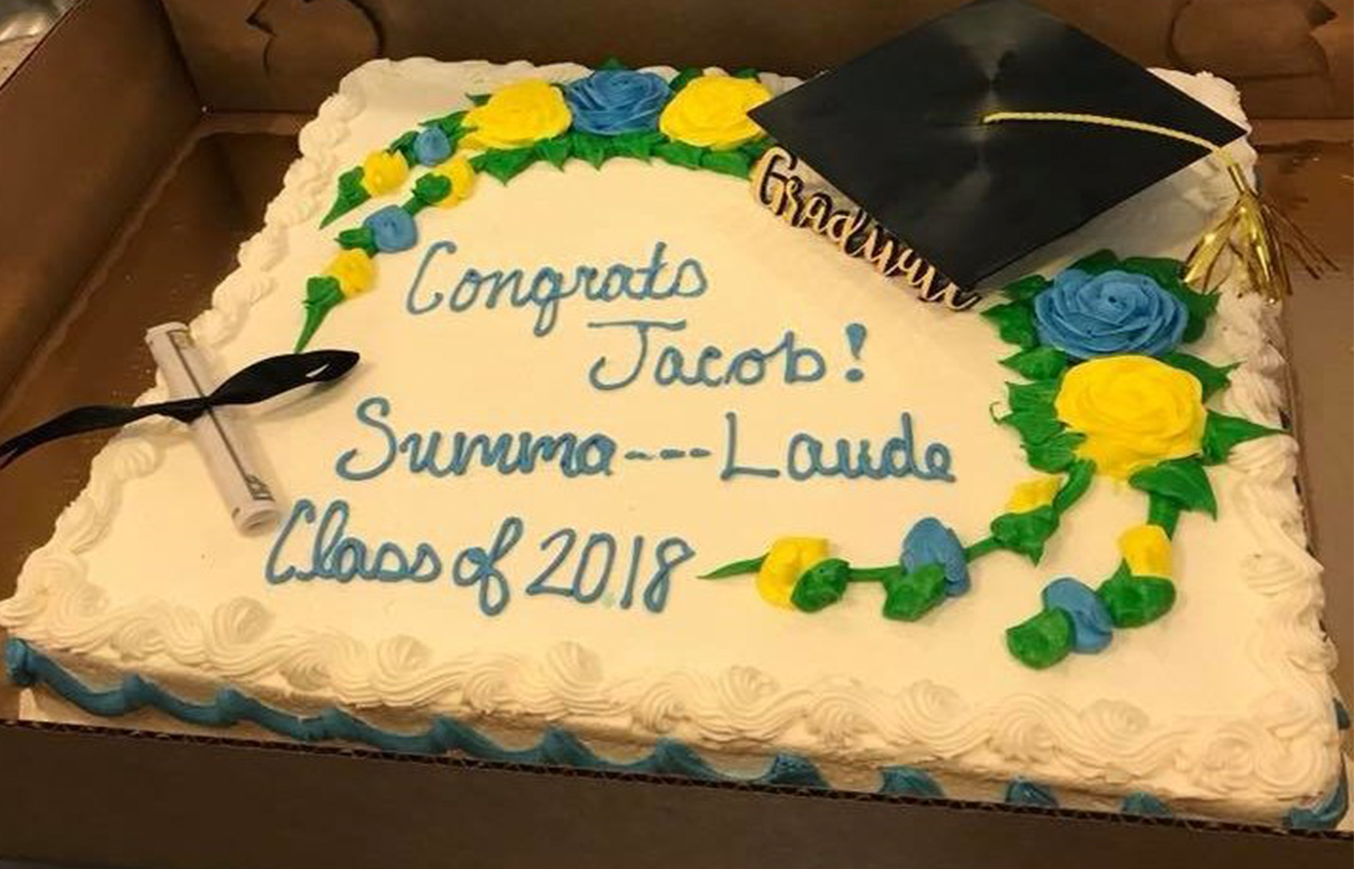 VOTE NOW! Is this Funny or Offensive?
Posted in:
Oh, cum on!
Jun 4, 2018 – If you find yourself graduating "Summa Cum Laude" you'll be able to brag about that accomplishment for the rest of your life, but you will absolutely not be able to celebrate it with a cake from Publix. Well, at least not from one particular South Carolina location.
A doting family learned that lesson last week after a mother ordered her son a graduation cake that she thought would read "Congrats Jacob! Summa Cum Laude Class of 2018." Instead, the supermarket put three dashes in place of the word "cum."
Cara Koscinski ordered the cake online for a party she was throwing for her son, Jacob, who ended his high school career with a 4.89 grade-point average. Publix's online ordering system allows customers to customize their dream cake, but a no-nonsense algorithm scans for any inappropriate messages.
"Summa Cum Laude" is a Latin term meaning "with highest distinction or honor," but it turns out you can't teach an old AI new tricks when it comes to cum. Koscinski said she did fill out the "special instructions" box explaining the distinction after the system flagged the word. As friends and family gathered around the cake on the day of the party, though, she realized that the store had still censored the word.
"It was unbelievable," Koscinski told The Washington Post. "I ordered the special graduation edition cake. I can't believe I'm the first one to ever write 'Summa Cum Laude' on a cake."
And just like the surprisingly offensive chocolate and vanilla cake in question, this story has layers.
Not only did some friends and family members have to be told why the word "cum" would be deemed offensive, the party was thrown to celebrate Jacob's graduation from a Christian-based home-school program.
"The cake experience was kind of frustrating and humiliating because I had to explain to my friends and family, like, what that meant," Jacob said. "And they were giggling uncontrollably. At least my friends were." 
After explaining to her 70-year-old mother why Pubix would censor the word "cum," Koscinski made a call to the store. She said the assistant manager told her that they would remake the cake, but the mom rejected that offer saying "you only graduate once." YOGO, indeed. Publix still attempted to correct the error by refunding the $70 and giving the family a store gift card.
Now that they've digested the debacle, the family says they can laugh about it. Jacob is now focused on his college life, which will begin this fall with a full academic scholarship at Wingate University in North Carolina.
His mother is finding the humor but also still reflecting on her dessert decision:
"Maybe I should have just gotten him his favorite mint chocolate chip ice cream instead," she said. 
What made you laugh the most about the great graduation cake fail of 2018? Do you think Publix handled the situation well?