John Oliver Buys and Forgives $15 Million of Medical Debt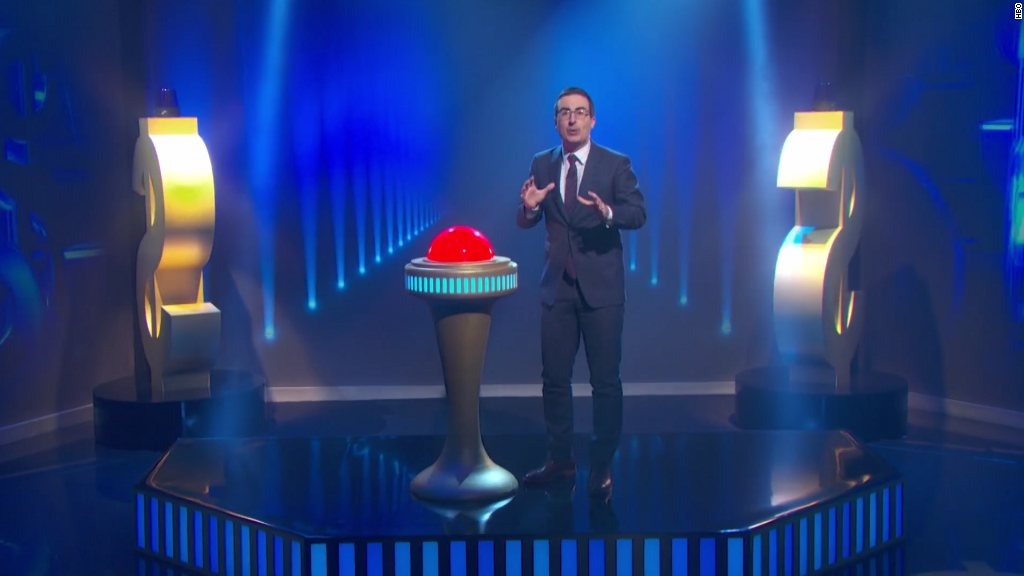 VOTE NOW! Is this Funny or Offensive?
Posted in:
The Walking Debt
June 6, 2016 – "Debt. It's the reason Nicolas Cage has made so many great choices in recent years," John Oliver quipped as he opened a segment from Sunday's episode of Last Week Tonight. What followed was 20 minutes of revealing the greedy, ill-regulated world of debt buying where companies such as Encore Capital Group and PRA Group buy original creditors out and are able to acquire personal information to collect the debt themselves. Oliver quotes that as of March 2016 the American household debt is $12 trillion and $436 billion is seriously delinquent.
While he understands that debt people create purposefully should be paid back if they are financially able, he highlights that many debt stories are the result of unavoidable circumstances. He shares the story of a couple who had accrued $80,000 after a hospital told them their insurance wouldn't pay for breathing treatments that kept a husband in intensive care for four days.
"Now that's terrible, because some debts are completely unavoidable," the host said. "This isn't someone spending $80,000 on this Versace coat that looks like a banana fu**ed a Rorschach test."
Through the selling of debt from one company to the other to the other and so on, individuals can be harassed for debt they don't recognize, debt that is past the statute of limitations, debt that has been discharged through bankruptcy and even debt that has been paid.
This debt is referred to as "zombie debt." And Oliver makes a painfully funny correlation between victims of this and those dearly departed characters on The Walking Dead. 
"Just like on The Walking Dead, zombie debt comes back from the grave, is incredibly hard to deal with and seems to disproportionately impact minorities," Oliver said.
Oliver also points out that while some new owners of your debt behave within the boundaries of the law, others go so far outside that news reports covering the harassment have to bleep out words used in voicemail messages to contact those who owe. And with some states even loosening the rules and regulations for the debt buying industry, Oliver's team decided to do their part to tighten up the loopholes and help those in need.
It was easier than one might think. There are plenty of states where you can purchase and/or collect debt without having a license to do so. "There are places in this country where you need to fill out less paperwork to start collecting money from people's pockets than you do to collect fish from a fu**ing lake," the host made clear.
Oliver and his crew started their own debt buying company called "Central Asset Recovery Professionals" or "CARP" after the bottom-feeding fish. He said it was "disturbingly easy" because all they did was pay $50 to incorporate a debt acquisition company online in Mississippi. They set up a simple website and were then offered nearly $15 million of out of statute medical debt from Texas in exchange for less than $60,000. His company could have potentially gained 9,000 people's names, home addresses and social security numbers.
"We bought it, which is absolutely terrifying, because it means if I wanted to, I could legally have CARP take possession of that list and have employees start calling people, turning their lives upside-down over medical debt they no longer had to pay," Oliver said. "There would be absolutely nothing wrong with that, except for the fact that absolutely everything is wrong with that."
Following in the footsteps Oprah but not to be outdone by the queen of daytime TV, Oliver decided to be generous and giveaway $15 million. Oprah famously gave away $8 million in an episode by giving a car to every audience member. Oliver gave the debtor list to RIP Medical Debt, a non-profit who will be able to forgive the debt without a tax penalty for those in debt. The intrepid host recognized that, sure, it was the right thing to do, but also, hey, they beat Oprah!
With one click of a ridiculously large red button, Oliver brought effective oversight to shady debt collecting habits and did the largest one-time giveaway in television history. "You are about to watch me give away $15 million! Fu*k you, Oprah," he exclaimed!
Watch the segment here courtesy of HBO: