Principal Tells Students Not To Wear Leggings Unless A Size 0 Or 2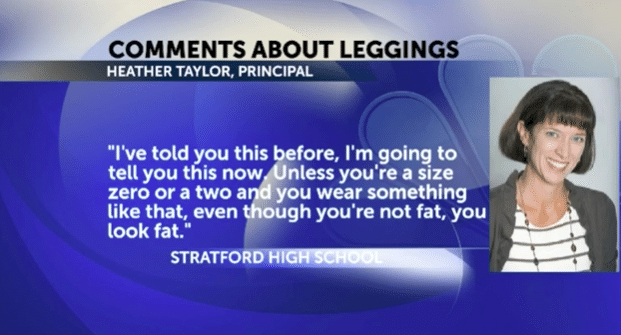 VOTE NOW! Is this Funny or Offensive?
Posted in:
Back-to-School Fashion Tips From Your Principal
August 25th, 2017 – No pushing in the hallways, be nice to you fellow classmates, have a good year, etc. This is typical fodder for Back-to-School assemblies. But Stratford High School Principal Heather Taylor shocked 9th and 10th grade female students this week by asking them not to wear leggings if they were above a size 2.
"I've told you this before, I'm going to tell you this now, unless you are a size zero or two and you wear something like that, even though you're not fat, you look fat," Taylor said on a recording which was aired on WCBD News 2 in Charleston, SC.

The school's dress code does state that "leggings, tights, yoga pants and spandex must be worn under clothing that cover to mid-thigh," but Taylor added her own thoughts about size restrictions.
The high school located in Goose Creek, a town just north of Charleston, became a firestorm of local outrage for the "body-shaming."
Students initially informed parents of the principal's words, and parent Lacy Thompson-Harper contacted Taylor. Thompson-Harper said:
"Body shaming teenage girls is uncalled for, inappropriate and unprofessional. When I spoke with her, she talked around the issue, and made excuse after excuse, effectively calling all of the students liars."
Some took to social media to call for the principal's firing:
HEATHER TAYLOR HIGH SCHOOL PRINCIPAL SHOULD BE FIRED. MAYBE SHE SHOULDN'T SMILE WITH THOSE BUCK TEETH https://t.co/DgbfqwfERo

— Nasty Woman from Tuc (@dmontano030) August 25, 2017
People like Heather Taylor, Principal of #StratfordHighSchool are exactly what is wrong with this world! Fire her ass! #bodyshaming #SC https://t.co/qOOti9enCu

— Sophie (@mrssophiew) August 24, 2017
Principal Heather Taylor, my size 18/20 ass is going to wear leggings in your honor today. https://t.co/Hds0dCMJvp #fatshaming

— Jen Stein Hauptmann (@dexlira) August 25, 2017
Stratford High sophomore Allison Veazey, in her interview with WCBD, said:
"I'm not a size zero, and I kind of felt targeted because of my size. It was really hurtful because I felt like my size made me look, you know, disgusting towards someone in the clothes that I wear."
According to The Huffington Post, Principal Taylor did apologize to students:
"My intention was not to hurt or offend any of my students in any way," Taylor wrote in the statement, provided to HuffPost by Stratford High. "I assured them all that I am one of their biggest fans and invested in their success. After speaking with our students and receiving their support, I am confident that, together, we are ready to move forward and have a wonderful year. Stratford High is a very caring community, and I want to thank all of our parents and students who have offered their support to me and provided me with an opportunity to directly address their concern. I am very proud to be a Stratford Knight."
But many wondered if the damage was already done to adolescents struggling with positive body image. Leggings are having a rough year in the news. Back in March, two teenage girls were banned from a United Airlines flight for wearing leggings.
Do you think Principal Taylor overstepped her boundaries in issuing fashion-sized advice to teens? Funny or Offensive? Vote and comment now…