Jokes Fly as Donald and Melania Trump Test Positive for COVID-19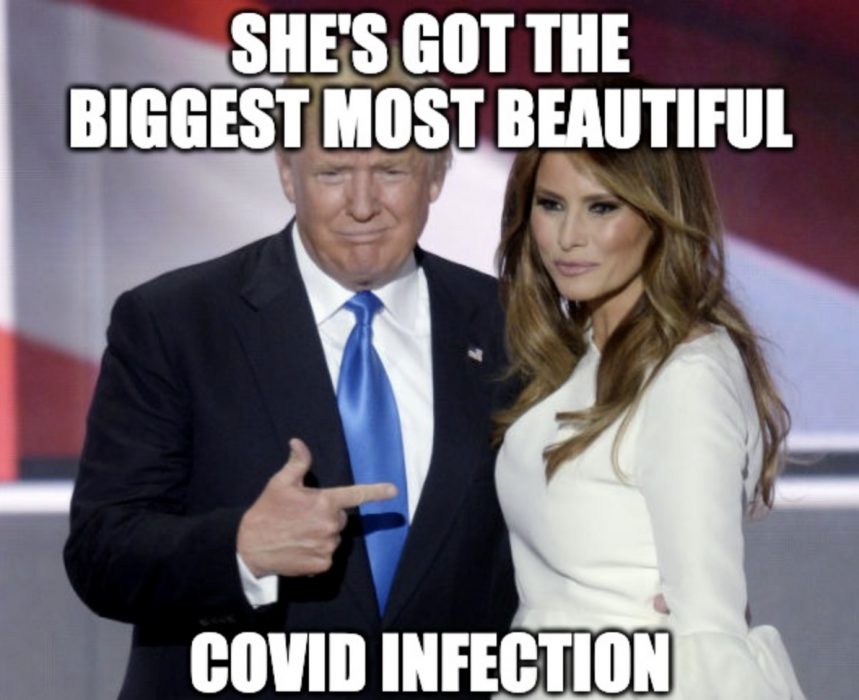 VOTE NOW! Is this Funny or Offensive?
Posted in:
"Covid out here trying to redeem itself"
October 2nd, 2020 – The President and First Lady of the United States tested positive for COVID-19 last night. While their results weren't publicly released for several hours, the jokes, speculation, and conspiracy theories emerged within seconds.
As pundits laid out the political stakes, Judd Apatow framed our cultural perspective. The comedian tweeted a FOO-centric thought saying:
"Tonight will reveal where we all think the line is comedically."
Tonight will reveal where we all think the line is comedically.

— Judd Apatow (@JuddApatow) October 2, 2020
There were those who quickly flew past the line, feeling little to no sympathy for a man who once called the virus a hoax, intentionally downplayed its severity, and just days prior mocked Joe Biden for consistently wearing a mask. Others edged up next to it with clever quips that actually took aim at perceived personal flaws of the president. And, finally, some people acknowledged that while they didn't wish the First Family any harm, it's hard not to see the funny, karmic energy in this moment.
From Hope Hicks (whose positive diagnosis was announced before Trump) and RBG to Melania and her "I Really Don't Care" jacket, there were plenty of angles to drive home some hits.
He is in several high-risk groups — elderly, obese, low-income.

— Frank McGovern (@FrankMcG) October 2, 2020
Wishing harm, sickness or death on someone, even a bad person, is petty & small.

BUT: it is genuinely & extremely funny that Trump got COVID. It's objectively funny. He downplayed it & mishandled it & thousands of people died. Now he has it. It's funny!

— Paul F. Tompkins (@PFTompkins) October 2, 2020
TFW you hear that Trump and Melania have COVID pic.twitter.com/fTKgfXo9QS

— The Volatile Mermaid (@OhNoSheTwitnt) October 2, 2020
Cut to pic.twitter.com/bInQVye9Ne

— anna hossnieh (@annahossnieh) October 2, 2020
Looks like RBG successfully argued her first case before God

— KimRL (@iamKimRL) October 2, 2020
if Hope is ultimately what ends this presidency then you really gotta hand it to Obama

— aj (@reluctant_horse) October 2, 2020
October 2, 2020
Feels good to laugh again

— Gabriel Gundacker (@gabegundacker) October 2, 2020
GO TOWARDS IT https://t.co/9Nl9K49fDS

— serotonin spooklin 🎃 (@ZacharyBrownAL) October 2, 2020
Don't worry, this guy is on it. pic.twitter.com/S8876TAB0K

— Daniel Dratch (@dandratch) October 2, 2020
Come the bloody hell on with this "don't laugh" stuff. This is a person who mocked Hillary Clinton for having pneumonia, who mocked Biden for wearing a mask, who mocked any state with tough lockdown rules – and now he gets the virus? Yeah, I think sane people are allowed a laugh.

— Leigh Whannell (@LWhannell) October 2, 2020
Anyone he's been close with is in danger. So Don Jr is safe.

— Jesse McLaren (@McJesse) October 2, 2020
Trump: "Biden you always got that big ass mask on when I see you"

Corona: pic.twitter.com/aD8aNhMGBK

— Lip Gallagher (@tonestradamus) October 2, 2020
covid out here trying to redeem itself

— Noah Segan (@kidblue) October 2, 2020
President Trump is being described by aides as confused, delirious, feeling physically uncomfortable, constantly fearful, and with a horrible skin pallor. And also he has some symptoms of Covid!

— Dan O'Sullivan (@Bro_Pair) October 3, 2020
The good news is this going to be your most liked tweet of all time. https://t.co/4lEXbDcGBG

— Joe Stapleton (@Stapes) October 2, 2020
To those of you demanding no one criticize or say anything insensitive about Trump today, just posting this for no reason whatsoever: https://t.co/MPtI1yrAez

— Mehdi Hasan (@mehdirhasan) October 2, 2020
you just KNEW when Tom Hanks got Covid the universe would have to balance itself out

— Matt Oswalt (@MattOswaltVA) October 2, 2020
Do you think Trump coronavirus jokes were Funny or Offensive? Vote and comment now.