A Look Into Logan Paul's Japan Vlogs As YouTube Cuts Ties With Its Money-Maker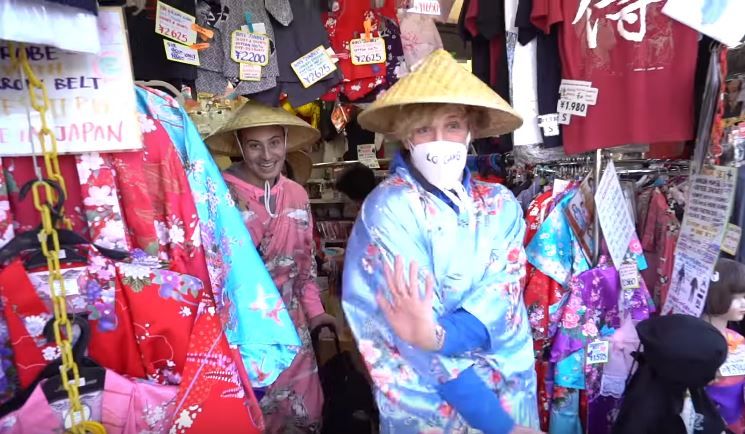 VOTE NOW! Is this Funny or Offensive?
Posted in:
An Idiot Abroad
January 9th, 2018 – If you didn't know the name Logan Paul, it's likely that it popped up at least once on your social media scrolls over the past couple of weeks. The YouTube star has been making short digital content since 2014 when he left college to dive head first into the now defunct world of Vine. His YouTube channel, Logan Paul Vlogs, has amassed a following of over 15 million subscribers and often consists of Paul pulling pranks with his friends, taking on goofy challenges, and releasing diss tracks against his brother. Then, on December 31st, he uploaded a video titled "We found a dead body in the Japanese Suicide Forest…"
Paul was walking with his crew in Aokigahara, a forest in Japan's Mount Fuji also known as "suicide forest," when he came upon a body hanging from a tree. The footage was edited in the same style as all of his other daily vlogs, and instantly the post drew criticism. By the following day, Paul had removed the vlog from his channel and issued a written and filmed apology.
Dear Internet, pic.twitter.com/42OCDBhiWg

— Logan Paul (@LoganPaul) January 2, 2018
As of Thursday of this week, YouTube cut down the financial opportunities and partnerships it once offered Paul. The company has removed Paul's channel from Google Preferred, a program that connects advertisers to high volume content creators. They also announced that he will not be featured in the site's upcoming original movies and television shows.
The question that's popped up lately, though, is why the video-sharing site didn't have issues with any previous content Paul has put out. Just a few days before the infamous suicide forest vlog, the YouTube star published videos called "We Fought In The Middle Of Tokyo!" and "KICKED OUT OF JAPAN! (i'm sorry) ??"
In these videos, Paul and his friends make their way through Japan wearing kimonos and hats and turning the camera on the locals. While he does remind his fans that Japan is "all about the respect," his understanding of the word is put into question when he buys a squid and a fish to put in people's faces before leaving them on a taxi. Paul also gets removed from an area after filming at a wishing well and a holy water structure, sticks his GoPro camera in a koi pond, and tries his hand at Japanese by saying something was "much-o broken-o."
Turns out, Logan Paul's trip to Japan was problematic for many reasons ? pic.twitter.com/yhj2BYgk4G

— We The Unicorns (@wetheunicorns) January 5, 2018
As Kotaku, a news and opinion site for the gaming world, pointed out "The Japanese word 'meiwaku' (迷惑) appears throughout the comments [on the YouTube video]. The word means 'bother' or 'annoyance.' As a general societal rule, Japanese people often do as much as they can not to bother or annoy other Japanese people. They do not want to create meiwaku for others."
What do you think of Logan Paul's videos before the "suicide forest" post that lost him YouTube ties? Was he already creating "meiwaku" or was he just having a good time? Funny or Offensive? Vote and comment now.