Alabama Public Television Refuses To Air 'Arthur' Episode With Gay Wedding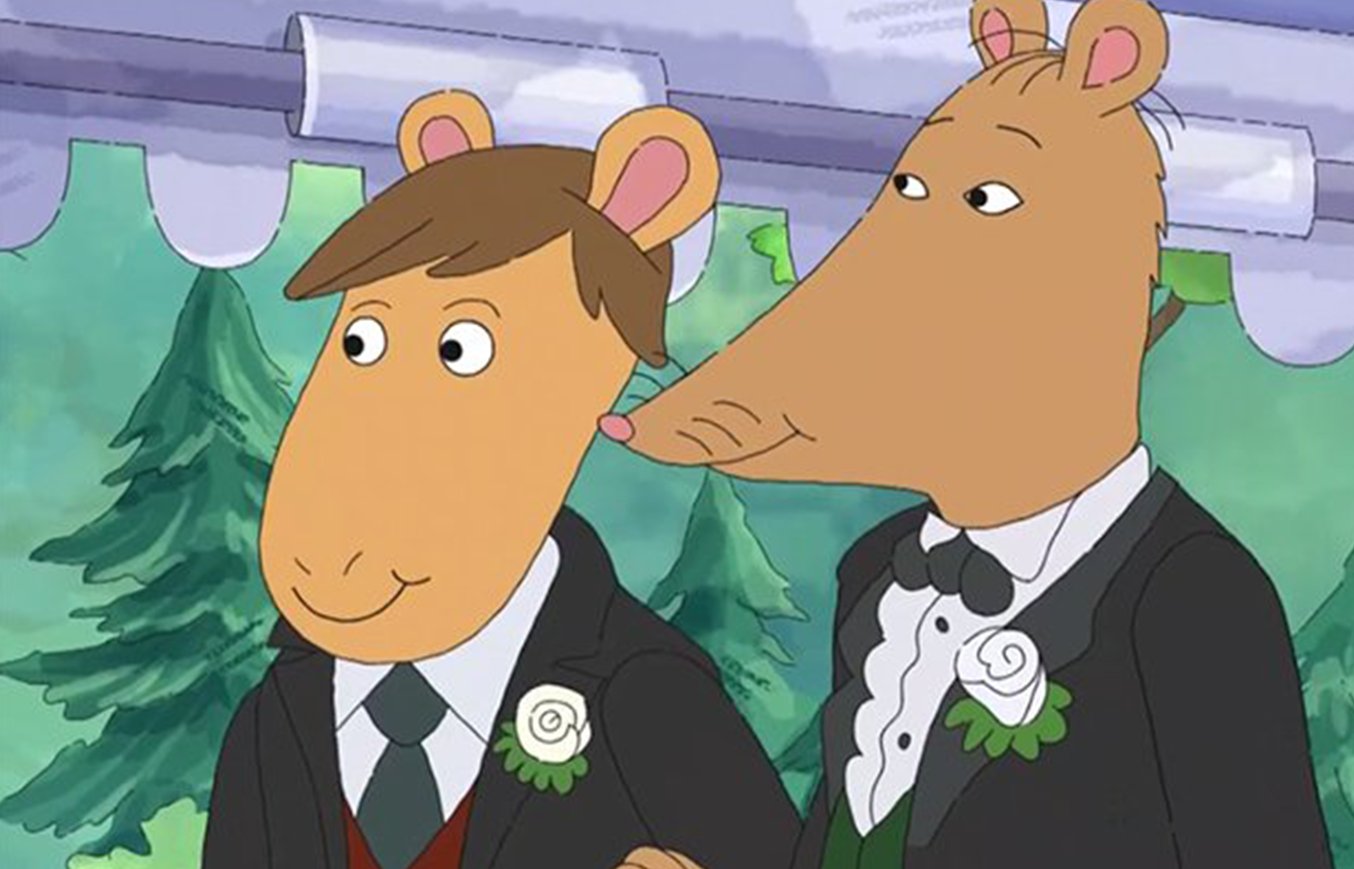 VOTE NOW! Is this Funny or Offensive?
Posted in:
Alabama: We Dare Defend Our Public Television
May 21st, 2019 – Alabama Public Television refused to air an episode of Arthur that featured a same-sex wedding. The PBS show has put out 22 seasons and on May 13th, its season premiere celebrated the marriage of beloved teacher Mr. Ratburn to an aardvark who happens to be the town's chocolatier. He also just happens to be a man.
PBS sent a message to stations in April in an attempt to get ahead of "possible viewer concerns about the content of the program." Mike Mckenzie, director of programming at APT, said that he and other employees viewed the episode titled "Mr. Ratburn and the Special Someone" and decided to shelve it.
"Parents have trusted Alabama Public Television for more than 50 years to provide children's programs that entertain, educate and inspire," Mckenzie wrote in an email to AL.com. "More importantly – although we strongly encourage parents to watch television with their children and talk about what they have learned afterwards – parents trust that their children can watch APT without their supervision. We also know that children who are younger than the 'target' audience for Arthur also watch the program."
Many parents, however, thought having the opportunity for their children to see Arthur, Francine, Buster and Muffy attend the wedding of a gay character would, in fact, entertain, educate and inspire. Misty Souder, a substitute teacher in McCalla, Alabama, planned on watching the episode with her 9-year-old daughter and was disappointed when her recording turned out to be a re-run.
She decided to do what APT chose to avoid: use the situation as a teaching moment. Souder connected with the station to show her daughter the importance of being an ally to marginalized groups.
"I just want her to be aware," she said. "There's too much going on not to stand up for stuff, even if it's Arthur. I never thought I'd be going to battle for a gay rat wedding, but here we are."
Marc Brown, creator of Arthur, said he's proud to have produced an episode of television that has been helpful to so many people. Speaking to CBC News, he said he believes that LGBT people are underrepresented in entertainment and wanted families to have a chance to see their lives reflected in art.
"A parent has the opportunity to watch television with their kids and explain things and expand the story that they're watching together and share their values. That's, I think, one of the beauties of television," he said. "Kids need to see what's happening in the world. I would hate to live in a world that was sanitized and censored."
Arthur has been a staple in childhood homes since debuting in 1996, and it hasn't been a stranger to controversy over the years. In 2005, APT pulled an episode of Postcards From Buster, a spinoff of Arthur, after learning that Buster will meet a character who has two moms. In 2016, the show found itself at the center of a Twitter meme trend as users applied very adult-themed captions to innocent screenshots.
With 2019's controversy, several people have remained focused on the positive aspect of a children's show so unabashedly celebrating love between two people of the same sex.
It turns out Arthur is more courageous and explicit than Avengers: Endgame when it comes to LGBTQ2 lives and storylines. Congrats Mr. Ratburn! Your move, Marvel…. https://t.co/eq99SerHaC

— Rachel Giese (@rachelagiese) May 13, 2019
"How will I explain to my 12-year-old child who is being forced to give birth to her rapist's baby that two cartoon characters are getting married?" https://t.co/VnJAIQZLZV

— Jess Dweck (@TheDweck) May 21, 2019
For APT's part, Mckenzie maintains that they made the right decision. He believes that airing the episode would have taken away the parents' choice in not exposing their children to real life situations (assuming they don't know how to use a remote).
"The vast majority of parents will not have heard about the content, whether they agree with it or not," he said. "Because of this, we felt it would be a violation of trust to broadcast the episode."
"Mr. Ratburn and the Special Someone" is available to view at pbskids.org.
Do you think Alabama Public Television made the right call in pulling the same-sex wedding episode of Arthur?