Land O'Lakes Removes Native American Woman From Butter Packaging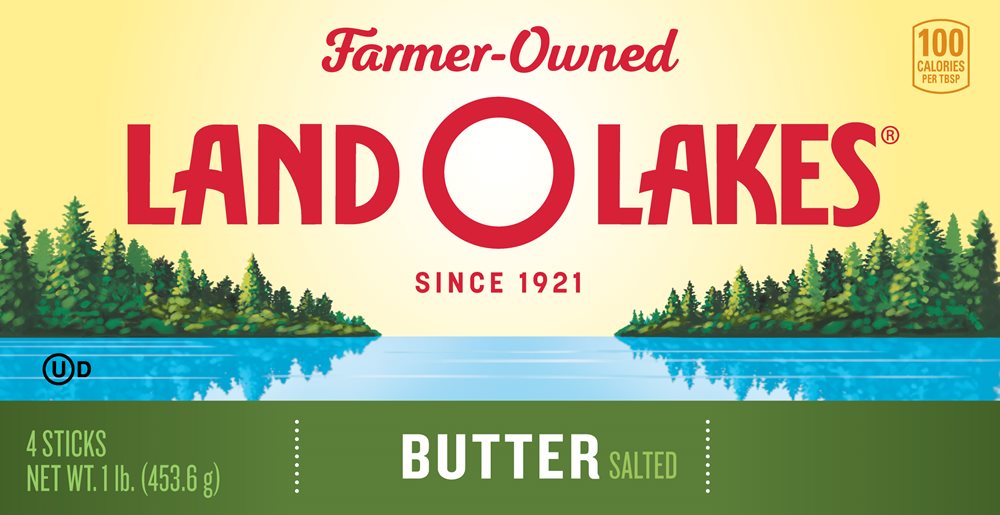 VOTE NOW! Is this Funny or Offensive?
Posted in:
Mixed Reactions? You Butter Believe It!
April 27th, 2020 – Land O'Lakes has said goodbye to the Native American woman that graced its products for nearly 100 years. The Minnesota-based dairy company began packaging re-brands in February, but the change went largely unnoticed until last week.
While Land O'Lakes has framed the decision around the idea of highlighting the company's farmer-owned culture, many believe a push to be more culturally sensitive was also behind the move. Mia, the Native American cartoon logo, has been a fixture on butter, cheeses, and heavy creams, but now only the blue lake and green pine trees remain.
"As Land O'Lakes looks toward our 100th anniversary, we've recognized we need packaging that reflects the foundation and heart of our company culture — and nothing does that better than our farmer-owners whose milk is used to produce Land O'Lakes' dairy products," Beth Ford, president and CEO of Land O'Lakes, said in a company statement from February.
The new packaging will now read "Farmer-Owned Since 1921," and some products will also include "Proud to be Farmer-Owned: As a farmer-owned co-op, we stand together to bring you the very best in dairy." Mia, who wore a brown fringed dress and feather headband will be replaced with actual farmers in the co-op.
While Land O'Lakes hasn't issued any other comments since the logo change, opinions have obviously spread across toasty computers. Some people argue that the change doesn't really address the problem. Others applauded the step toward respect. And one person, well, you can just kiss their "butter buying ass."
Land o Lakes celebrating the long tradition of forcing Native Americans off their land and taking it for their own.

Well done. pic.twitter.com/h0Knl1Xfdk

— Resist & Desist (@ResistandDesist) April 26, 2020
Why so serious? Land O Lakes removing the Native American, but keeping the Land and the Lakes is as American as it gets.

— Stephen (@SAS0620) April 26, 2020
I am so happy I get to replace their logo in my lesson about cultural appropriation. Yay!

— Katie Scherer (@Katie_C_Scherer) April 15, 2020
Americans saying shit like 'my family has always been a land o lakes family' is so fucking funny lmao pic.twitter.com/dbA4tuEeqq

— lucy valentine (@LucyXIV) April 25, 2020
The Star Tribune gave a history lesson on the creation of Mia and spoke to the son of the man who reimagined the Native American woman decades later. Originally, it was Arthur C. Hanson who illustrated Mia, but in the 1950s Patrick DesJarlait, a member of the Ojibwe tribe, tweaked the image.
"I have mixed feelings about it," Robert DesJarlait, Patrick's son, told the Tribune. "I'm sad to see it go, but I can understand why it's gone. We live in a politically correct time, so maybe it was time to get rid of it. It certainly devolved into a stereotype. But in our family, my dad's work is a source of pride for us. He broke barriers as an Ojibwe artist from Red Lake."
The argument over racist stereotypes and cultural appropriation persists and likely will even when all of the butter-buyers' asses have been sufficiently kissed. In recent years, several sports teams and universities have reckoned with problematic logos. In 2019, the Cleveland Indians began the process of removing Chief Wahoo from their uniforms, banners, and merchandise.
During buttergate, several professors have expressed disappointment in Land O'Lakes for not explicitly addressing the racial issues behind removing Mia from its packaging.
"It could have been a very strong and positive message to have publicly said, 'We realized after a hundred years that our image was harmful and so we decided to remove it,'" Brown University professor Adrienne Keene said. "In our current cultural moment, that's something people would really respond to."
Do you think Land O'Lakes made the right decision in removing Mia from its packaging?