Missouri Bar Owner Makes Doormat With NFL Jerseys: LYNCH KAEPERNICK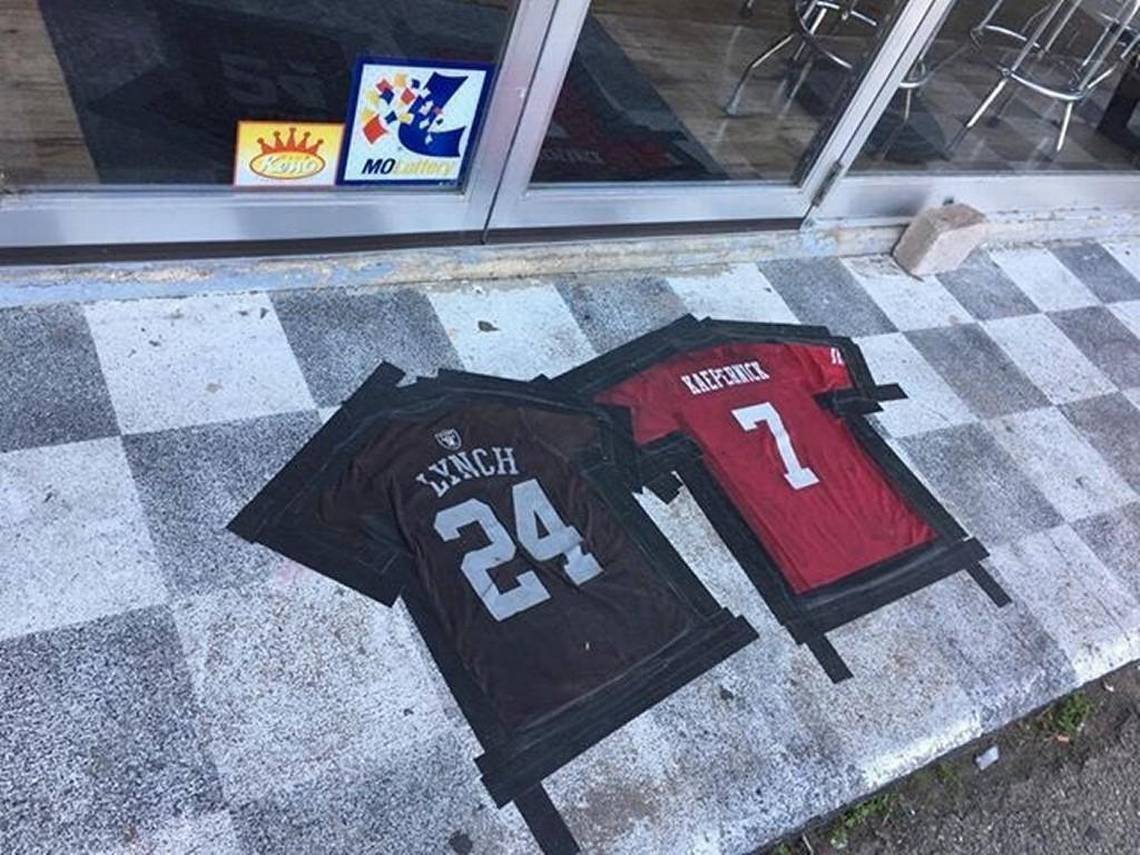 VOTE NOW! Is this Funny or Offensive?
Posted in:
Not-So-Happy Hour
October 5, 2017 – A Missouri business owner appears to be angling for a spot in the "It's Not a Race Thing" Hall of Fame. Jason Burle, upset with the recent protests against police brutality and racial injustice by NFL players kneeling during the national anthem, decided to make his feelings on the matter plain. He placed jerseys for NFL running back, Marshawn Lynch, and former NFL quarterback, Colin Kaepernick, outside the entrance to his Lake Ozark sports bar as doormats. The jerseys were arranged in a way that some critics are describing as racist. One passerby posted an image of the display on social media and harshly criticized the move saying:
"This is bigger than me or him. It's about racism so systemic that some don't even acknowledge it happening, or disguising it as patriotism, which in their mind is absolute."
Burle originally taped the jerseys to the ground reading left to right with Lynch's jersey followed by Kaepernick's saying, in effect: "Lynch Kaepernick;" "lynching" being the violent act of extrajudicial murder which, most notably, the KKK perpetrated to terrorize and disenfranchise black people throughout the nineteenth and twentieth centuries. For his part, Burle insists that he was simply protesting what he felt was the disrespect of military veterans by Kaepernick and any other professional athletes who knelt or sat during the national anthem. Burle told reporters:
"This is not a race thing… We pulled them out of the box, taped them down. There was no ill-intent."
Since beginning his protest in 2016, Kaepernick has refused to stand for the national anthem played before NFL games and since he became an unsigned free agent, the former 49ers standout has inspired dozens more athletes to emulate his silent, peaceful protest. Despite this, NFL fans, pundits and former reality show host Donald Trump have publicly bashed the protesting NFL players and their teams with some even calling for a boycott of the NFL. The response from the league owners has been equally charged with controversy as some teams allowed their players to kneel and/or stand with arms locked in solidarity and still others refusing to take part in the anthem ceremony at all.
After a social media uproar, Burle, an Air Force veteran, switched the position of the jerseys and issued a statement supporting the player's right to express their opinions.
"I commend them for what they're doing, as far as the right goes. I fought for that right," Burle told KOMU. "The same thing that gives them that right gives me the right to place these out here."
Do you think it was appropriate for the bar owner to place those jerseys as "Lynch Kaepernick?" Do you think this advances the conversation about free speech, protests and equality?