President Trump Appeared in Front of A Phony Presidential Seal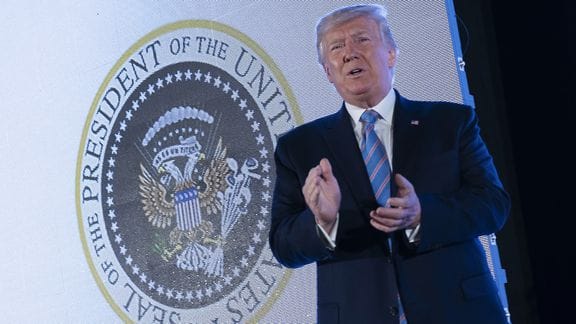 VOTE NOW! Is this Funny or Offensive?
Posted in:
Seal Team Sux
July 25, 2019 – President Trump appeared in front of a phony Presidential seal this week while speaking at the conservative Turning Point USA student summit. The altered Presidential logo featured a Russian eagle holding golf clubs and the words "45 is a puppet" in Spanish.
An audiovisual aide for Tuning Point USA was fired after the parody image mishap. TPUSA apologized for the incident, insisting there was "zero malicious intent" behind the placement of the logo:
"One of our video team members did a Google Image search for a high-res png (file) presidential seal,"and "did the search and with the pressure of the event, didn't notice that it is a doctored seal."
Per a White House source:
"Ultimately, both TPUSA and White House advance are at fault. TPUSA and their production crew were responsible for putting the wrong graphic up. But the advance office should have provided the official seal and/or approved everything that was put out," the source said.
Do you think the phony presidential seal is Funny or Offensive? Vote now…