Meteorologist Fired After Using Martin Luther King Jr. Slur He Claims Was A Flub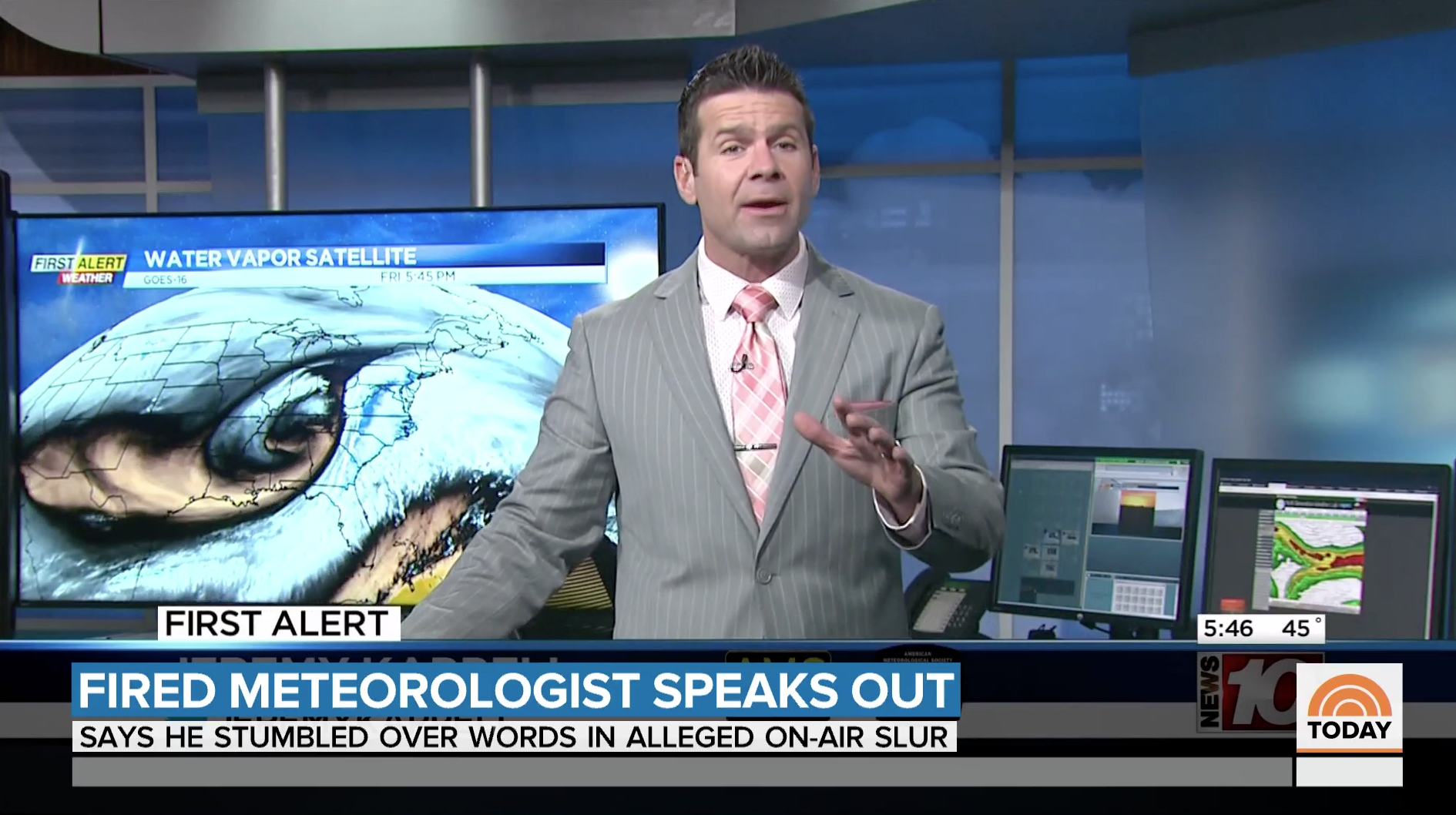 VOTE NOW! Is this Funny or Offensive?
Posted in:
"Martin Luther Coon…King Jr."
January 10th, 2019 – A meteorologist in Rochester, New York has been fired after using a racial slur live on-air – a moment he explains as simply a flub rather than an intentional disparagement. Jeremy Kappell, the WHEC chief meteorologist, made the comment Friday night while talking about Martin Luther King Jr. Park, a local spot named after the civil rights leader.
Kappell quickly said the name of the park, seeming to combine the words "king" and "junior" too quickly resulting in actually voicing "coon."
"It looked gray at Martin Luther coon…King Jr. Park," he said during the weather segment. 
The 20-year meteorology veteran corrected the name in the moment but didn't address what actually came out. Kappell went on with his weathercast, but viewers didn't let it slide. Outrage quickly grew online with viewers calling him racist and demanding he be fired.
Rochester Mayor Lovely Warren, a black woman, was among those calling for his termination. She was vocal over the weekend about calling out the deeper issue in Kappell's use of the word and directed a large portion of her condemnation at the station. In a Sunday night Facebook post she said it was:
 "wrong, hurtful and infuriating" that WHEC Channel 10 had aired the "racial slur."
Mayor Warren went on to slam the station after they announced Kappell's firing on Monday.
"It took the station nearly two days to apologize, and only after the station was shamed into doing so by a backlash on social media," she said in a statement. She added that this incident was another example of local media lacking "cultural sensitivity and competency."
News10NBC general manager Richard A. Reingold disagrees. He claims the decision to fire Kappell was made internally Sunday afternoon – before Mayor Warren made her social media post. Reingold and two station anchors addressed the controversy on-air Monday night.
"We believe strongly in holding our reporters and anchors to the highest standard," Reingold said. "We are proud of our dedicated newsroom professionals and expect and require that each respects and understands that their behavior reflects directly on the station for which they work and the community we serve."
The station manager and Robert Hubbard, president of the Hubbard Television group, elaborated more in a statement to The Washington Post. 
"[He] clearly voiced a racially derogatory term," the statement said. "An utterance such as this, with no immediate apology, regardless of intent, is unacceptable and inexcusable. There can be no confusion by anyone who works at Hubbard Broadcasting or by anyone in the communities we serve, that this is unacceptable."
In an era of outrage culture, calls for the immediate termination of a public figure have become more common. Last fall, Today show anchor Megyn Kelly was fired following steady outcry over her remarks about blackface being acceptable when she was younger. Colleague Al Roker was vocal at the time about his belief that her apology should have gone farther.
This time around, Roker has come to the defense of Kappell. The famous weather man tweeted his support for Kappell – calling the comment a flub and asking that he be given the chance to apologize.
Al, thank you very much. Your support means so much to this family.

— Jeremy Kappell (@JeremyKappell) January 9, 2019
A huge support system has echoed similar sentiments. Kappell's Twitter account has been flooded with people expressing outrage not over the flub but the decision to can the meteorologist.
As an African American, this clearly seems like he got tongue ties with the words. Give the man his job back.

— Beverley (@bosayles) January 7, 2019
You have been totally hosed. I hope that you find work in your field very soon. A mistake made without malice should never cost so anyone this severely. Good luck to you.

— Mark Mariano (@mmariano633) January 8, 2019
I'm progressive and very skeptical of racism denial. But it's clear to me that you jumbled your words, anticipating "king" and "junior" while talking quickly. Social justice is very important. But not at the expense of a career for an innocent mistake. You deserve far better.

— M K RAY (@mkray22) January 9, 2019
Are you kidding me? That's one of the dumbest things I've ever heard.

Say "King" and "Junior" 5 times fast and tell me what happens.

It's a very easy mistake to make. Granted not one that should be taken lightly, but also not one you fire someone over with no explanation.

— Jared (@JaredG_13) January 8, 2019
Kappell isn't alone in making this specific word-slip. Three identical "coon" statements have happened while television personalities attempted to say "Martin Luther King Jr." One Las Vegas weather reporter was fired after the slur, but an ESPN employee and another meteorologist kept their jobs after apologizing on-air.
Kappell continues to defend himself while also apologizing to anybody who may have been hurt by hearing that word. He insists that it wasn't even a word but more so a "sound" that happened while speaking too quickly.
"Of course I don't harbor any racist thoughts. And for people to make that assumption goes to show you their shallow level of thinking," he said.

"In my mind I knew I had mispronounced, but there was no malice. I had no idea the way it came across to many people. That was not a word I said, I promise you that. If you did feel that it hurt you in any way, I sincerely apologize. I would never want to tarnish the reputation of such a great man as Dr. Martin Luther King Jr., one of the greatest civic leaders of all time."

Jessica Batman has started a change.org petition called "I Stand Behind Jeremy Kappell," which currently has over 46,000 signatures. No additional statements have been released from the station, but Kappell still lists himself as "Chief Meteorologist for WHEC" in his social media bios. He has also updated his cover photos to a quote from MLK Jr. reading "Darkness cannot drive out darkness; only light can do that."
Do you think the word was just a flub or an intentional slur? Should Jeremy Kappell have been given the chance to do an on-air apology or was the firing appropriate?